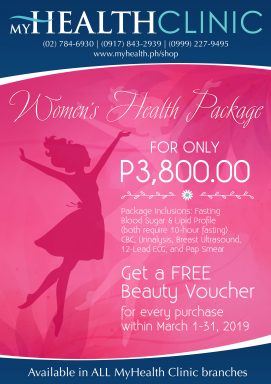 MyHealth's Women Health Package offers preventive health screening services that can help identify health concerns before they become severe. Earlier diagnosis and treatment lead to better outcomes and quality of life for many conditions. 
For every purchase (in clinic or online)this March, you get a FREE Beauty Voucher!
Package includes:
Fasting Blood Sugar and Lipid Profile (both require 10-hour fasting)
CBC
Urinalysis
Breast Ultrasound
12-Lead ECG
Pap Smear
Beauty Voucher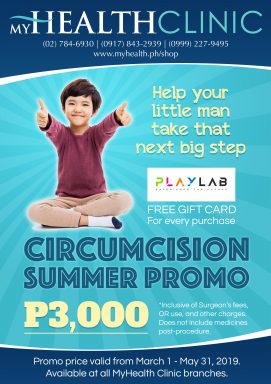 Circumcision is an ancient practice done mainly for religious reasons. Nowadays, parents have their sons circumcised not just for hygienic reasons, but also as a rite of passage to adulthood.
Presenting MyHealth's Be MyMan Circumcision Package—an offer inclusive of Surgeon's fees, medicines during surgery, and use of MyHealth's world-class OR facility, for only P3,000.
Every Purchase of the Circumcision Summer Promo, you get a free Playlab Gift Card the country's first indoor, interactive and digital playground that offers both physical and technology-based playing aids. (https://www.facebook.com/PlayLabPH/)
REDEEMABLE IN ALL CLINIC BRANCHES
Free Unlimited Consultaion to a Primary Care Physician (IM, FM, and GP)
20% discount on ALL laboratory services
20% discount on Diagnostic Services (refers to X-ray, ultrasound, ECG, 2D-Echo,
Treadmill Stress Test)
REDEEMABLE IN ALL CLINIC BRANCHES
Free Unlimited Consultaion to a Primary Care Physician (IM, FM, and GP)
20% discount on ALL laboratory services
20% discount on Diagnostic Services (refers to X-ray, ultrasound, ECG, 2D-Echo,
Treadmill Stress Test)
REDEEMABLE IN ALL CLINIC BRANCHES
Discounted APE Package worth Php 700.00.
This APE Package includes: Basic Five (Complete Physical Examination, Urinalysis, Fecalysis,Chest X-ray, CBC) and Fasting Blood Sugar.
Free Unlimited Consultaion to a Primary Care Physician (IM, FM, and GP)
20% discount on ALL laboratory services
20% discount on Diagnostic Services (refers to X-ray, ultrasound, ECG, 2D-Echo,
Treadmill Stress Test)
Stamford Excecutive Residences
REDEEMABLE IN ALL CLINIC BRANCHES
Free Unlimited Consultaion to a Primary Care Physician (IM, FM, and GP)
20% discount on ALL laboratory services
20% discount on Diagnostic Services (refers to X-ray, ultrasound, ECG, 2D-Echo,
Treadmill Stress Test)
5% Discount on ECU Packages
REDEEMABLE IN MYHEALTH VENICE BRANCH
Free Unlimited Consultaion to a Primary Care Physician (IM, FM, and GP)
20% discount on ALL laboratory services
20% discount on Diagnostic Services (refers to X-ray, ultrasound, ECG, 2D-Echo,
Treadmill Stress Test)
REDEEMABLE IN MYHEALTH ROBINSONS PLACE MANILA  BRANCHE
Free Unlimited Consultaion to a Primary Care Physician (IM, FM, and GP)
20% discount on ALL laboratory services
20% discount on Diagnostic Services (refers to X-ray, ultrasound, ECG, 2D-Echo,
Treadmill Stress Test)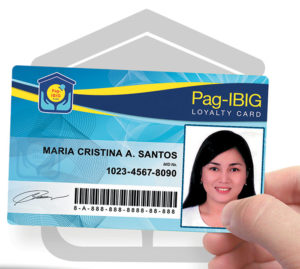 REDEEMABLE IN ALL CLINIC BRANCHES
Free Unlimited Consultaion to a Primary Care Physician (IM, FM, and GP)
20% discount on ALL laboratory services
20% discount on Diagnostic Services (refers to X-ray, ultrasound, ECG, 2D-Echo,
Treadmill Stress Test)
Make an Appointment & Contact Us