MyWellness+ package
₱1,350.00 – ₱3,163.00
MyWellness+ is a medical exam package with additional metabolic screening tests to better monitor an individual's overall health. This package is a great option if you're looking to get a clearer picture of your health because it is specifically designed for the needs of young adults, adult men, or adult women.
Please see More Info tab below for specific package inclusions. 
DISCLAIMER / NOTES:
After buying this package, the patient must be the one to schedule their clinic visit using MyHealth's Appointment Scheduler. This can ensure that the availment can be accommodated by their preferred clinic branch.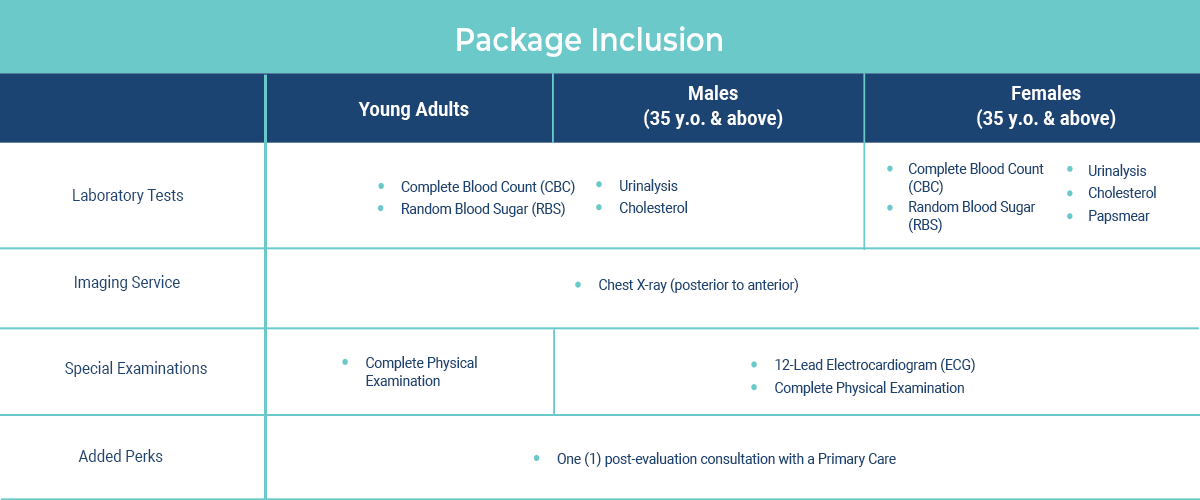 Frequently Asked Questions (FAQs):
How do I avail this in the clinic after buying?
You will receive a confirmation email that your purchase has pushed through.
Once you have that, take note of the Order No. and schedule your visit to one of our clinic branches using the Appointment Scheduler: https://www.myhealth.ph/appointment-scheduler/
Please wait for a confirmation of your appointment before proceeding to the clinic as walk-ins do not have a guaranteed time of accommodation. 
Can I buy this package for someone else?
Yes, but make sure to indicate the name and details of the person (patient) that will be availing of the package in the Billing Details section during check-out. The person (patient) must bring a printed/digital copy of the receipt and one (1) valid ID during their scheduled appointment of their medical exam. 
What preparations are needed before having my medical exam?
Get a confirmed appointment from your preferred clinic branch using our Appointment Scheduler:

https://www.myhealth.ph/appointment-scheduler/

 

If you purchased via the website, please bring your receipt and one (1) valid ID.

This medical exam does not need preparations such as fasting or collected samples beforehand.
Can I avail this in the clinic without buying on the website first?
Yes, you may directly avail of this package in your preferred clinic branch. Please take note that the price for the package will be the walk-in rate (website promos or discounts are not included). Make sure to schedule your visit beforehand.